About Garudo.net
Domain:
www.garudo.net
Founded:
October 30th, 2006 (original site in Finnish)
Reopened:
January 1st, 2019
Old lay outs
Click for bigger pictures.
Name: 0.1 Levatheme
Oct 30th, 2006 to Dec 22nd, 2006
Comment: My first take at HTML and web design. It has characters from my oldest comic project, Merdack, and Levatheme is a thing in the comic as well.
Changed because: I wanted a new lay out in the Christmas update.
Name: 0.2 Safari
Dec 22nd, 2006 to Feb 7th, 2007
Comment: My dad gave me an awesome photo book about African wildlife and I used it to draw this. I was very proud of the art back when this was new. This is probably also when I joined the now long gone Finnish top 100 websites list, which I miss dearly.
Changed because: Got inspired by a picture I drew.
Name: 0.3 Forgotten
Feb 7th, 2007 to Apr 10th, 2007
Comment: This lay out set the style for many others to follow. Also I spelled "Forgotten" wrong. Don't judge, I was young and English is not my first language.
Changed because: I drew a new picture and it was so awesome that I had to make a lay out out of it.
Name: 0.4 Illumination
Apr 10th, 2007 to Jun 18th, 2007
Comment: Got Photoshop, found the dodge tool and fell in love. Maybe too much. Also, downloaded fonts. This one is called "Aileenation." These three guys are my oldest role palying characters: Legacy, Ewill and Aristoteles. They're not usually wearing leather coats, though; actually the first two are supposed to be just ordinary dogs.
Changed because: Listened to a song and found inspiration. New lay out happened.
Name: 0.5 Via Finlandia
Jun 18th, 2007 to Aug 23rd, 2007
Comment: Got the name from a song of a Finnish rock band called Dingo. I loved this so much, especially those woodblocks.
Changed because: Autumn came and this was too summery. It was bitter to change this, though.
Name: 0.6 Citrouille
Aug 23rd, 2007 to Dec 11th, 2007
Comment: This must have been the most difficult lay out I ever made. So many loose parts, oh god. This one started the tradition of French names for lay outs (I really don't know why I gave this one a French name because it took another year before I started studying French), as well as using images as links. The leaves changed color when you put your mouse over them (I discovered JavaScript thanks to Dynamic Drive!). The character is the pumpkin spirit Revil from an old story of mine and the name also means "pumpkin."
Changed because: The trouble with season-themed lay outs is that they have to be changed when seasons change.
Name: 0.7 Traînarde
Dec 11th, 2007 to Mar 13th, 2008
Comment: Ah, winter, griffins and Nitrome's winter games! You can thank their pixel art for that boxy Garudo.net and the little icicles. This one had an awesome animation on the front page, where the mascot Chave carved the word "Garudonet" from the ice. The name means "straggler" or something similar.
Changed because: Again with the season themes.
Name: 0.8 Marécage
Mar 13th, 2008 to Apr 17th, 2008
Comment: Apparently the first image ever that I finished before I realized I would use it for a lay out. See those odd, wonky letters? It's a font I made myself. Also, this is when I started using external CSS files. I don't understand how I managed to update every single page (there were many!) before that. The name means "marsh."
Changed because: Too many people complaining that I'm slow with changing lay outs (with this being the most short-lived lay out ever?)
Name: 0.9 Désordre
Apr 17th, 2008 to Jun 6th, 2008
Comment: How I loved this lay out. I still consider it one of my best designs ever. I drew this on top of photographs and added the art later on. Also in the corner: my trusted Technica-X mechanical pencil. I lost that one in the Canary islands and was bitter for days. The name of the lay out means "disorder", naturally.
Changed because: Felt like making a new one. Also, looking at this always makes me feel like making a new version of this!
Name: 1.0 Chanceux
Jun 6th, 2008 to Aug 26th, 2008
Comment: The Traînarde griffin makes a comeback, spiced with my clover obsession. This had a new front page animation as well. Don't really have much to say about this, it's pretty basic. The name means "lucky."
Changed because: I felt like this had been around long enough and it was autumn again.
Name: 1.1 Lanterne
Aug 26th, 2008 to Oct 21st, 2008
Comment: A strange thing about this lay out is that I loved it when it came out, but now I don't even want to look at it because it brings back some memories I wouldn't care to remember. Anyway, I tried a new type of lay out with all the links on the sides. What can I say, I like lanterns? In this one there were those cute little lanterns next to all titles.
Changed because: Got super inspired by my new idea, yay.
Name: 1.2 Désolation
Oct 21st, 2008 to May 8th, 2009
Comment: Sad, sad times when I started to get old and lazy. I didn't originally mean for this to become a lay out, but it turned out so pretty that I wanted to showcase it. I mean, I used to think it was pretty. Those coulds god I hate them. Also I have a moon fixation, I drew it everywhere at this phase. This was the first of many dragon lay outs (funny since I don't really draw that many dragons).
Changed because: I kept this for like half a year, I was so embarrassed by my laziness that I wanted a new lay out.
Name: 1.3 Des Ailes
May 8th, 2009 to Jul 17th, 2009
Comment: One of my favourites again, I still have this painting on my wall. Wings. So many wings. That's what the name means, too. Never liked the nav buttons, though. I lost the first ones when my computer crashed and making this was a pain in the ass anyway. It's because of the number, isn't it?
Changed because: Super huge inspiration time again.
Name: 1.4 L'infini
Jul 17th, 2009 to Oct 17th, 2009
Comment: The inspiration for this was super weird. First there was this thunder storm, and I thought "wow, thunder storms sure are cool. I should make art about it!" And then... this happened? I really liked the characters in this one. Also, again it has the Moon. The name means "infinity."
Changed because: I was being lazy again, eventually got sick of it myself.
Name: 1.5 La Toussaint
Oct 17th, 2009 to Dec 2nd, 2009
Comment: And Revil from Citrouille makes a comeback! This is orange and black, so obviously I love it. Revil was a pain to draw, but then again this is one of the best works I drew that year. The name means Halloween, or more like All Hallow's Eve, but nobody really makes the distinction anymore, do they?
Changed because: I had to update into my Christmas calendar lay out.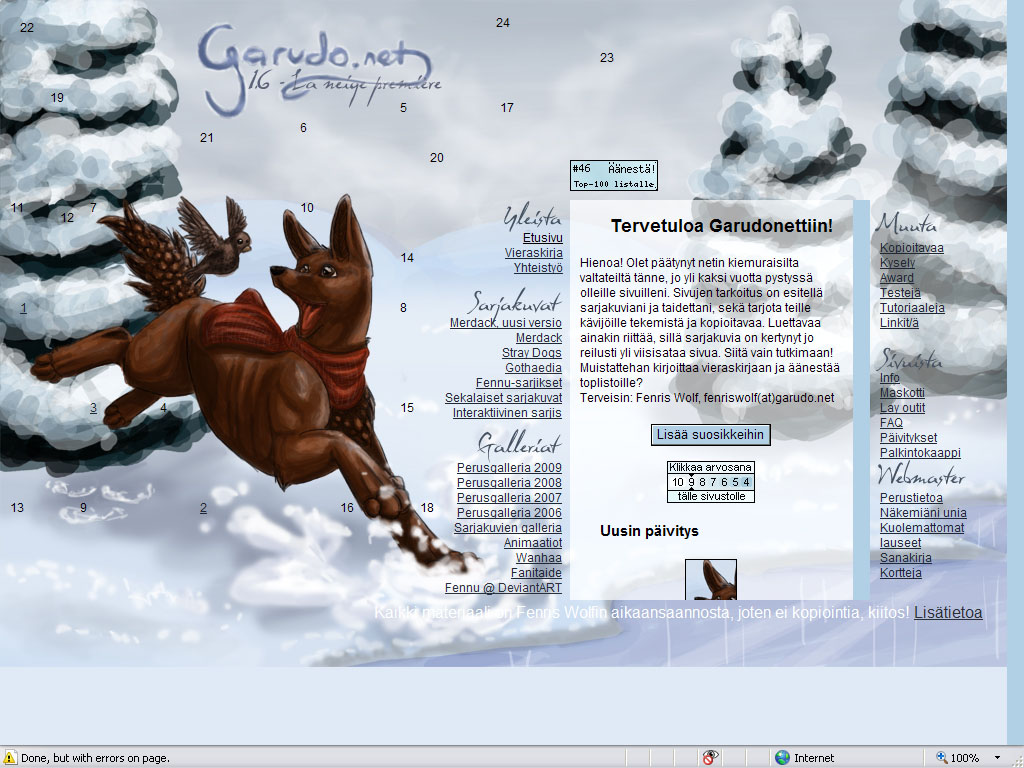 Name: 1.6 La Neige Première
Dec 2nd, 2009 to Dec 25th, 2009
Comment: Didn't like this one, nope. It was rushed but I was already late and I needed a Christmas calendar. Putting the numbers in place was horrible, ugh. The name is supposed to mean "first snow", still not sure if that's how the French say it, though.
Changed because: A Christmas calendar is pretty useless after Christmas, and a new lay out has always been a traditional part of the Christmas update.
Name: 1.7 Votre Pays
Dec 25th, 2009 to Apr 22nd, 2010
Comment: Needed a new lay out for the Christmas update. I had this drawing on my wall for a long time. These are characters from a never-realised comic project I was planning long ago; they're called Nulla and Uldur. Also this was supposed to be "Notre Pays", our land, rather than "votre" (your) and I only noticed when this had been up for months. I was supposed to be good at French, damnit!
Changed because: Finally finished the new lay out which took AGES to finish.
Name: 1.8 Pêcheur
Apr 22nd, 2010 to Jan 1st, 2011
Comment: I was reading a Donald Duck story which had surprisingly stunning artwork considering that artwork isn't really what that comic is about. This took me over two months to finish because damn those icebergs. Still sort of in love with this, even though I'm not happy with all details. The name means "fisher."
Changed because: This was way too old. Way.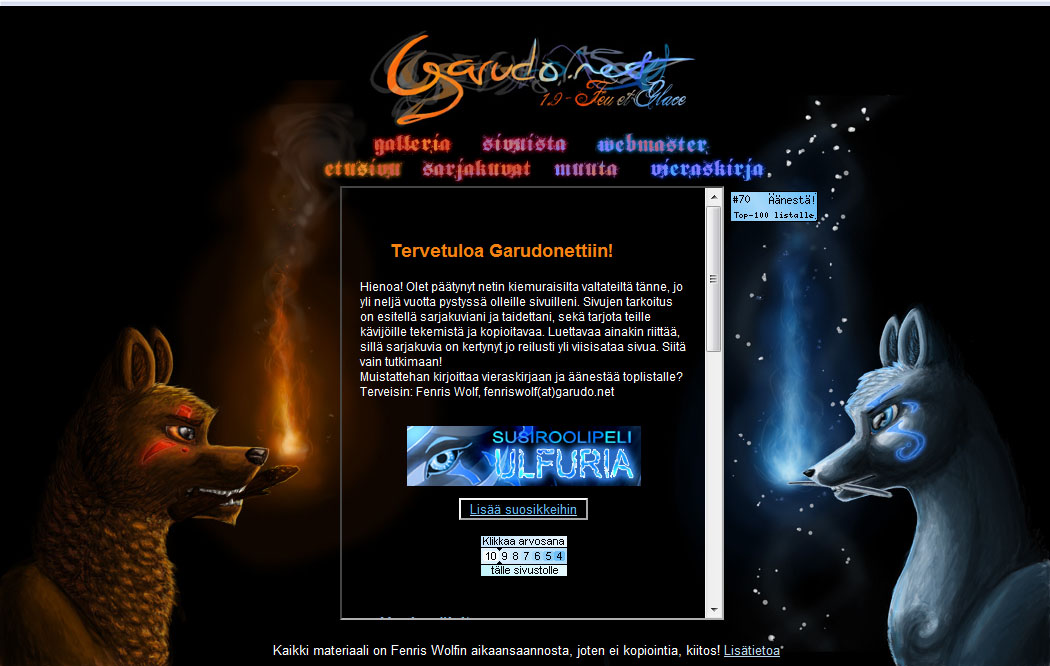 Name: 1.9 Feu et Glace
Jan 1st, 2011 to Jun 4th, 2011
Comment: This one was supposed to be a painting called "Pilgrims" about wolves carrying torches in a canyon, but I never finished that one. This element thingy happened instead. This was the first thing I drew with my new tablet, which I got on my birthday. I finished this on my birthday as well, but I had no idea what to do with the navigation links, and figuring that out apparently took me one and a half months. Well. The name means "fire and ice."
Changed because: Again I had been super lazy, and I had a new picture I was dying to use as a lay out.
Name: 2.0 Dépression
Jun 4th, 2011 to some time in 2013
Comment: One day I felt like I needed to draw but had no ideas at all, so I used my old art block killing trick, which is trying to draw the art block. First this was supposed to be just a silly little sketch, but somehow I finished it and it is awesome. Seriously, two years later it's still one of my best works. Sadly, this lay out update was the last update the old Garudo.net ever saw.
Changed because: After two years of Garudo.net being dead I was finished with my high school graduation exams and decided it wasn't time for this website to die. The renovated site naturally needed a new lay out.